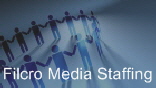 Filcro Media Staffing recruits (DOOH) Digital Out of Home and (PB) Place Based advertising sales executives for diverse media interests in local, regional and national markets.


With place based and digital out of home media platforms offering digital dissemination and assimilation the industry is experiencing exponential growth in market penetration, monetization modalities and revenue streams from localization.
Filcro Media Staffing recruits the talented DOOH and Place Based executives to build, operate and monetize infrastructure unique to B2B, B2C and C2C DOOH opportunities.

The firm has a reputation for recruiting sales leadership as well as the accompanying media infrastructure for selling, operating, disseminating, assimilating, traffic, inventory, sales planning, RFP responses, ideation, licensing and content creation. All these components are integral in the strategic and tactical success of DOOH, OOH and Place Based digital media platform monetization and Filcro Media Staffing has experience recruiting in all these experience and skill set groups.
Genre, vertical and venue specific opportunities abound for companies capable of recruiting the proper executives to orchestrate the soft and hard assets required. Filcro Media Staffing also recruits the facilities and real estate executives so critical to venue, real estate, shopping mall, facilities and the required technology for DOOH.
Digital out of home and placed based advertising revenue streams surrounding music, entertainment, sports, automotive, consumer packaged goods CPG, electronics, telecommunications, apparel, food services QSR's, beverage, shopping mall, big box, travel, gaming and financial services are all examples of business verticals that Filcro Media Staffing has helped monetize by recruiting the appropriate executives.
Conducting executive searches for the world's largest media and entertainment companies and exciting new start-ups, Filcro Media Staffing has the recruitment experience and proven efficacy to attract the human capital required to bring DOOH & Place Based business objectives to fruition.
Below is an example of a Filcro Media Staffing digital out of home advertising sales executive search for a New York City based Vice President. The types of jobs, locations of jobs filled and the modality of the executive search process itself, can be viewed in documented case histories with references.
EXAMPLE OF A PLACE BASED DOOH EXECUTIVE SEARCH
Position

Vice President
National Advertising Sales
Music & Entertainment Channels
Digital Out Of Home Networks (DOOH)

Compensation

Mid Six Figures with incentives
With outstanding benefits and career growth

Location

New York, NY 10036 - USA

The Firm

One of the world's most successful interactive & DoubleClick accountable DOOH Digital Networks broadcasting interactive music entertainment is seeking a talented senior most advertising sales executive to function tactically and strategically as the firm enhances their ad sales monetization channels by building a solid national digital advertising sales organization

Job Description

Responsible for generating Advertising Sales across the Network

Creating greater visibility and exposure throughout the Advertising community and with national advertisers.

This Vice President will be responsible for meeting Advertising sales budgets, and servicing multiple accounts across different business categories such as beverage, adult beverage, entertainment, telecommunications, financial services, food services and other major national advertising business sectors.

Build and maintain strong blue-chip clients and top-tier Agency relationships who seek a youth oriented highly desirable 18-34 demographic with high disposable income.

Integrate the Advertising Sales department with company resources to ensure maximum leverage of Network.

Provide critical input on the development of advertising performance metrics.

Required Skills

A minimum of 8 years of experience in advertising sales with National digital / online advertising sales.

An excellent strategic sense with the ability to function tactically and grow an existing Ad Network.

A sales executive who creativity can work with marketing to develop innovative advertising programs that enhance advertising sales.

An entrepreneurial approach to business and an understanding of the challenges and opportunities of working in a high growth mid-size company.

Well established contacts with both corporate accounts and Advertising Agencies.

Extremely strong written, verbal and presentation skills.
Detail oriented with the ability to manage multiple projects simultaneously.

A Bachelor's Degree is required. Advanced degree preferred.

Broad acumen

of the Out-Of-Home and Digital-Out-Of-Home National Ad Sales space to augment a track record of advertising sales success.

Contact

Tony Filson
Filcro Media Staffing

Resume Email Link

Links

Media Sales Group | All Groups | Contact | Home | DOOH

ALT examples 1 - 2 | Public References


FILCRO MEDIA STAFFING



| | | | | | |
| --- | --- | --- | --- | --- | --- |
| | | | | | |
| Mobile | Cable TV & MSO | Broadcast TV | Radio | Online | OEM & DOOH |